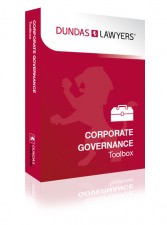 Thanks for your interest in our Corporate Governance Toolbox. The aim of the Toolbox is to assist you in dealing with all aspects of an Enterprise, from obligations imposed by statute, common law and other contractual relationships to the day-to-day practicalities of running a business. It's a free for you to download and use. Note that the use of the Corporate Governance Toolbox is not legal advice and its use does not create a lawyer/client relationship between you and Dundas Lawyers.
This Toolbox will change over time in order to to update with the evolution of case law.
So that we can keep you informed, please complete your details below so that we can send you any relevant updates.
Once you have completed the form, you will see a link to download the Corporate Governance Toolbox and will receive a follow up email with the same link.