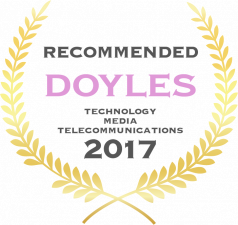 Dundas Lawyers is a multi award winning technology, media and telecommunications law (TM&T) law firm established in 2011 with offices in Brisbane and the Gold Coast with clients throughout Australia and internationally.  We've been recognised in the prestigious Doyles Guide in the TM&T category in 2015 and 2017.
Our Special Counsel, Michael Adami, has over 15 years' experience in the TMT law arena, including extensive in-house experience with Vodafone and Nokia, and can help you navigate through the maze of telecommunications regulations and draft the necessary telecommunications agreements.
Our Telecommunications Law experience includes:
Drafting Telecommunications Services Customer Agreements/ Standard Form of Agreements for carriage service provider resellers of wholesale carriers of telecommunications services that are back to backed with carrier's wholesale agreements;
Drafting and negotiating large network carrier grade hardware, software and services sales and procurement agreements;
Drafting fixed line dark-fibre network build and telecommunications service Agreements;
Drafting and negotiating mobile network swap agreements for a carrier;
Drafting and negotiating telecommunications services procurement agreements globally for a multi-national news agency; and
Drafting managed services agreements over network operations centres for a carrier.
Telecommunications legislation
Competition and Consumer Act 2010 (Cth)
Telecommunications Act 1997 (Cth)
Telecommunications (Consumer Complaints Handling) Industry Standard 2018
Telecommunications (Consumer Protection and Service Standards) Act 1999 (Cth)
Telecommunications (Interception and Access) Act 1979 (Cth)
C628:2019 Telecommunications Consumer Protections Code
Related telecommunications law articles
The use of IRU's in a telecommunications capacity
Telco reseller agreements – legal issues
Dark fibre agreements for telcos
What is in a network access agreement?
Standard form telecommunications services agreements
Advertising guidelines for carriage service providers
Further information
Please contact me for an obligation free consultation to discuss your telecommunications needs:
Michael Adami LLB.,GDLP.,BA.
Special Counsel
Telephone: (07) 3221 0013
e: madami@dundaslawyers.com.au