What are the changes?
The Federal Government's changes to the Privacy Act 1988 (Cth) (Privacy Act) commence today.   These amendments include the introduction of thirteen (13) new Australian Privacy Principles (APPs).  See the APPs here.The amendments also provide the Privacy Commissioner with new powers including the power to make determinations, accept enforceable written undertakings and apply for civil penalty orders.  The penalties range up to:
$340,000 – for an individual; and

$1.7 million – for a company.
These amendments mark new approach to privacy protection in Australia.  As the Privacy Commissioner recently stated, "I will not be taking a softly softly approach to these new powers."[1]  
What do you need to do?
If you are a business with a turnover of over 3 million or more, health care provider or a business that trades in personal information you must:  
update your website's privacy policy, terms and conditions, collection notices and consent forms;

 

conduct a Privacy Act Compliance Audit (PACA) to identify problems in business practices;

 

introduce staff training, undertakings and procedure manuals;

 

review existing contracts to ensure privacy compliance with associated entities;

 

evaluate the security of data including IT and data storage processes; and

 

ensure practices are up-to-date with Credit reporting codes.

 
Dundas Lawyers can help ensure your business is compliant with the Australian Privacy Principles.
Further information
If you need further information about making your business compliant with the Australian Privacy Principles please contact us for an obligation free and confidential discussion.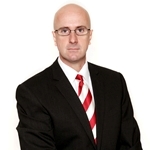 Malcolm Burrows B.Bus.,MBA.,LL.B.,LL.M.,MQLS.
Legal Practice Director
Telephone: (07) 3221 0013
Mobile: 0419 726 535
e: mburrows@dundaslawyers.com.au
Disclaimer
This article contains general commentary only.  You should not rely on the commentary as legal advice.  Specific legal advice should be obtained to ascertain how the law applies to your particular circumstances.