Software Developers (Developers) who build iOS Applications (Apps) for use on Apple devices must adhere to strict requirements set by Apple.
There are a number of licences which provide for development and distribution of Apps, including:
the Apple Developer Agreement;
the Apple Developer Program Licence Agreement; and
the Apple Developer Enterprise Program Licence (ADEPL).
These licences can be viewed on the Apple website, (however you must first sign in using an Apple ID).
App Store Review Guidelines
Apple exercises a high degree of control over the development of Apps for its iOS platform (which operates on Apple iPhones, iPads, and other mobile devices).  The App Store Review Guidelines (ASRG) contain a prescriptive list of requirements, written in plain English, which must be met before Apple will allow an App to be submitted to its "App Store".
Unless an iOS device has been 'jailbroken', the device will only run applications which have been digitally signed by software developers authorised by Apple.  Therefore, before an App can be distributed via Apple's App Store or "B2B Store", the applications must be submitted to Apple for review and approval.  Apple will reject any Apps that they consider, amongst other things:
to be unreliable;
does not perform as expected; or
to contain offensive material.
Some have questioned whether there is a way to circumnavigate the review and approval process by developing Apps under the Apple Developer Enterprise Program Licence (ADEPL). The consequences of this are discussed below.
Apple Developer Enterprise Program License
The ADEPL is a program designed to allow organisations to develop and deploy custom iOS applications for use solely within their own organisation.  Apps distributed using the ADEPL are not required to be submitted to Apple for review and approval before distribution, which has raised questions about whether this licence can be utilised to distribute Apps without Apple's scrutiny.
Unfortunately, Apps distributed under the ADEPL are limited by the terms of the ADEPL to be used only within the organisation for which it is developed.  In other words, the ADEPL cannot be used to commercially distribute iOS applications to the public.  This conclusion is partially based on the following provisions found in the ADEPL agreement:
"Internal Use Application" means a program "… that is developed by You on a custom basis for Your own business purposes … solely for internal use by Your Employees or Permitted Users, or as otherwise expressly permitted …" and which specifically excludes "any programs or applications that may be used, distributed, or otherwise made available to other companies …"
the "Purpose" preamble states: "If You want to distribute applications for iOS, watchOS or tvOS to third parties or obtain an application from a third party, then You must use the App Store or B2B Program for distribution."
Clause 7 of the ADEPL also prohibits the distribution of applications developed using the Apple Software, except as permitted by the ADEPL.
Consequences of breaching the ADEPL
If Apple became aware that a user was commercially distributing iOS applications in breach of the ADEPL, it may terminate the agreement with the Developer for breaching its terms.  Apple could also revoke any digital certificates that were used to sign an application for distribution.  Either way there are significant adverse consequences for the Developer and their client.
Therefore if a Developer wishes to distribute an application for commercial purposes, distribution via the App or B2B Store, in compliance with Apple's term and conditions, would be the safest course of action.
What does this mean for Developers?
In combination, the stringent controls Apple exercises over the App and B2B store, coupled with the limited availability of the ADEPL, result in a strictly controlled platform for all budding Developers looking to distribute their Apps on iOS devices.
There is no way distribute iOS applications without first having them approved by Apple.  Therefore, it is imperative that Developers understand the rights and obligations that arise from any agreement with Apple and the consequences of violating such agreements.
Further references
Related articles by Dundas Lawyers
Bespoke end user licence agreements for the iStore
Are software developers liable for defects in their software?
Further information
If you require further information about whether your App complies with the Apple Developer Program Licence or you require a bespoke EULA that complies with Apple's requirements, please contact us for a confidential and obligation free discussion.
Malcolm Burrows B.Bus.,MBA.,LL.B.,LL.M.,MQLS.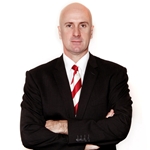 Legal Practice Director
Telephone: (07) 3221 0013
Mobile: 0419 726 535
e: mburrows@dundaslawyers.com.au
Disclaimer
This article contains general commentary only. You should not rely on the commentary as legal advice. Specific legal advice should be obtained to ascertain how the law applies to your particular circumstances.