A Reseller Agreement at its most basic is a contract that entitles one party the (Reseller) to sell, market, distribute, or lease a product or service of another (Grantor).  Reseller Agreements can also be called Distribution Agreements.
It is important to distinguish the Reseller relationship from one of an agent (Agent).  In an agency relationship, the Agent acts on behalf of the other party (Principal) and can bind the Principal to contract.  An Agent may also sell, market, distribute the Principal's products or services and may be given the right to use the Principal's brand; however there are important legal distinctions between Principal-Agent and Reseller-Grantor relationships.
Resellers usually cannot contract on behalf of Grantors
One distinguishing factor of an agency relationship is that an Agent may enter into a legally binding contract on behalf of its Principal.  Provided an Agent does not act outside of its authority, a Principal will be legally bound by any agreement that its Agent enters on its behalf.
Reseller Agreements do not permit Resellers to enter into contracts with third parties on behalf of their Grantors.  However, if a Reseller Agreement is not carefully drafted, or the Reseller-Grantor relationship not properly managed, there is a risk that an agency relationship may arise.
Defining the role of the Reseller and setting appropriate boundaries to the relationship is an essential function of the Reseller Agreement.  This ensures that third parties do not view the relationship as being one of Principal and Agent.  How the parties conduct is perceived by third parties is important because a court may determine, despite a written contract to the contrary, that an agency relationship does in fact exist.
Although many other functions of Resellers and Agents may appear to overlap, it is important to distinguish a Reseller from an Agent in this regard so as to avoid a Reseller binding its Grantor to contracts.
Rights and responsibilities are defined by the terms of the contract
A further feature of the Reseller Agreement is that all of the party's rights and responsibilities are usually defined within the terms of the contract.  This is not necessarily the case with other types of relationships, such as agency relationships, where specific obligations to behave in a particular way may be imposed on the parties.  These obligations are known as 'fiduciary duties' and generally apply to all agency relationships.
Whereas fiduciary duties exist because of the existence of an agency relationship at law, this does not occur in a Reseller-Grantor relationship.  In an agency relationship, an Agent has specific obligations to the Principal.  Duties including to avoid conflicts of interest and to not profit at the Principal's expense are inherent in the role of an Agent.  If such duties are not specified in the terms of a Reseller Agreement, however, Resellers are not bound by them in the way that an Agent would be.
While in some respects a Reseller Agreement provides greater freedom to the parties to contract, it leaves the parties exposed from the legal protections provided because of the fiduciary nature of an agency relationship.  This highlights the need to have a lawyer preparing a Reseller Agreement so that appropriate rights and responsibilities can be agreed and documented in the form of the contract.
Is there an implied agency relationship?
In George & Courtier Pty Ltd v Terrey [1996] NSWCA 206 the New South Wales Court of Appeal was required to determine whether a party acting as an intermediary between fruit growers and a farm machinery manufacturer was an agent or reseller of the manufacturer.
The court held that in order to ascertain the nature of the relationship, there had to be consideration "not only of the documents, but also of the conversations and conduct of the parties relating to the transaction."
The court ultimately held that the intermediary was in fact Agents of the manufacturers.
The consequence for the manufacturers in this instance was that they had contracted directly with the farm growers by way of their agency relationship through the intermediary.  This meant that they had contractual obligations to the farm growers, who were attempting to sue them because of defective equipment.
Disclaimer
This article contains general commentary only.  You should not rely on the commentary as legal advice.  Specific legal advice should be obtained to ascertain how the law applies to your particular circumstances.
---
Links and further references
Cases
Crabtree-Vickers Pty Ltd v Australian Direct Mail Advertising & Addressing Co Pty Ltd (1975) 133 CLR 72
Related articles by Dundas Lawyers
Agency agreements – what are they and how are they used?
When is your licensee really a franchisee?
Further information
If you need advice on a Resellers Agreement, please contact us for an obligation free and confidential discussion.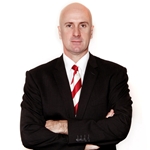 Malcolm Burrows B.Bus.,MBA.,LL.B.,LL.M.,MQLS.
Legal Practice Director
Telephone: (07) 3221 0013
Mobile: 0419 726 535
e: mburrows@dundaslawyers.com.au