In the post smart phone environment, software developers and publishers are increasingly providing end users (Users) with the opportunity to make micro-transactions (In-App Purchases) within their software (App). Under this business model, the publisher or developer offers their App, or at least a limited version of it, to consumers at no upfront cost. Users then may have the opportunity to make In-App Purchases using real world currency, such as:
a one off fee to access an advertisement free version of the App;
access to additional content within the App;
a digital currency for use within the App; or
consumable items such as extra lives or turns in games.
The In-App Purchase model has proven successful for many publishers, but as with all business models, it comes with its fair share of legal risk.
Contractual obligations
To distribute any App on the iStore or Google Play platforms there are certain terms that developers must include in the end user licence agreement (EULA).
Requirements for distribution on the iStore
Interestingly, the Apple "Minimum Terms of Developer's End-User License Agreement" do not contain any specific requirements relating to In App Purchases.
However, the "App Store Review Guidelines" state that any App will be rejected from distribution on the iStore if it promotes In-App Purchases:
that unlock or enable additional features or functionality with mechanisms other than the iStore;
that utilise a system other than the In-App Purchase API to make In-App Purchases;
for physical goods or services used outside of the App; or
for goods or services to be used in a different App to that within which the In-App Purchase is made,
More information about the additional EULA requirements for distribution on the iStore is available in the following article:
Requirements for distribution on Google Play
The Google Play "Developer Distribution Agreement" requires that Google is authorised to refund all In-App Purchases within forty eight (48) hours of purchase.
Further restrictions are imposed under the "Google Play Developer Programme Policies", under which all In-App Purchases, subject to certain exemptions, must be made using the Google Play In-App Billing method.
Legal risks inherent in In-App Purchases
Just like any other consumer goods sold within Australia, Apps and In-App Purchases are governed by the Australian Consumer Law.
A major risk for Apps with In-App Purchases is users, particularly children, making In-App Purchases accidentally, or without the knowledge that they are making an In-App Purchase for real world money.
Other risks relate to the:
capacity to bind persons who make In-App Purchases;
real world value, or lack thereof, of In-App Purchases;
nature of the In-App Purchase, that is whether or not there is a proprietary right of ownership, or merely a licence to use;
availability of refunds for In-App Purchases; and
effects that termination of the users licence to use the App, or their account (if any) has on their In-App Purchases.
Minimising legal risks
Apart from making it very clear when a user is about to make an In-App Purchase using real world currency, the best way to limit the exposure to the risks inherent in In-App Purchases is to adopt a bespoke end user licence agreement (EULA) and that reflects the practices adopted in the App.
A bespoke end user licence agreement will provide App developers and publishers with the best protection against both the risks relating to In-App Purchases:
of a general nature identified above; and
that are specific to the particular App.
Developers or publishers who are considering implementing In-App Purchases should consult with a qualified lawyer. Consultation with a professional will assist developers to formulate a EULA which is compliant with the requirements of the intended distribution platforms and the Australian Consumer Law.  Mitigating the risk that developers are exposed to in publishing their App could mean the difference between failure and a commercial success.
Further references
Legislation
Competition and Consumer Act 2010 (Cth) (Schedule 2 – The Australian Consumer Law)
Related articles by Dundas Lawyers
Are software developers liable for defects in their software?
Bespoke end user licence agreements for the iStore
App developers must take care with Apple Developer's License
What is an end user licence agreement?
Further information
If you require further information concerning your App or implementing In-App Purchases, please contact us for a confidential and obligation free discussion.
Malcolm Burrows B.Bus.,MBA.,LL.B.,LL.M.,MQLS.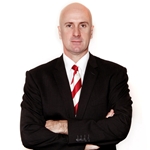 Legal Practice Director
Telephone: (07) 3221 0013
Mobile: 0419 726 535
e: mburrows@dundaslawyers.com.au
Disclaimer
This article contains general commentary only. You should not rely on the commentary as legal advice. Specific legal advice should be obtained to ascertain how the law applies to your particular circumstances.